How can I stream video to a TV?
There are many different ways to streaming a device to a wireless display. As long as you are on the same wi fi network, screen mirroring to your smart tv should be easy!
If you are wondering how to enable screen mirroring from your device then you have come to the right place. With all the different smart tvs, streaming devices, and your many personal devices, sharing a screen can be a great thing yet extremely frustrating. If you're storing and viewing your own digital collections over time you can watch any thing you wish but getting them onto your TV is sometimes not so straightforward. Let me tell you the best way to connect your computer and your mobile devices to your television.
FYI we will focus on screen mirroring via a smart tv or firestick, but the process should be almost identical regardless of which device you are streaming to what!
How to Stream a Laptop to a TV
First things first, make sure your tv has wireless connectivity or has some sort of smart device plugged in. By this I mean apple tv, amazon firestick, google chromecast, roku, etc. If you do not have a smart tv or a streaming device then you will simply have to plug an hdmi cable into your laptop and tv. Otherwise, lets begin by looking at your start menu!
You are going to want to open up you task bar/search menu and go to the display tab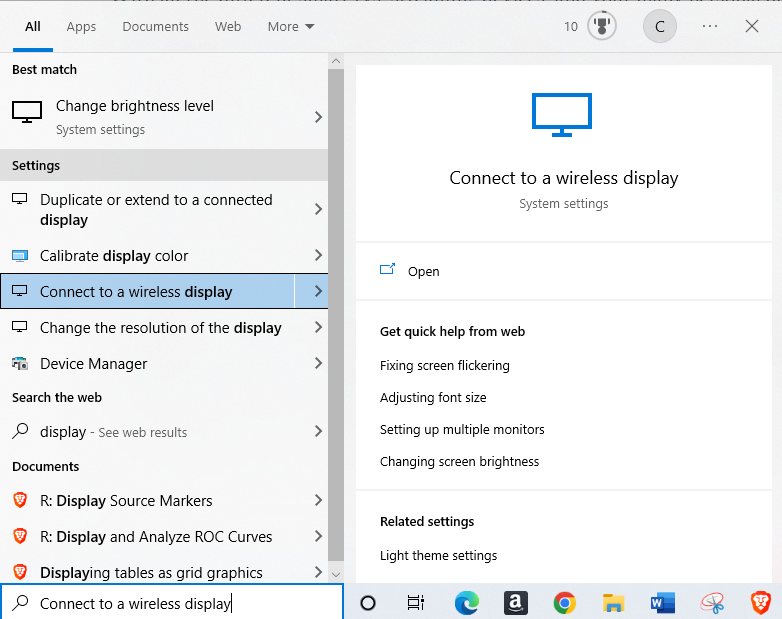 You can type in display and this tab or something similar should pop up. It should be noted this example is based on a laptop running windows 10. If you are on a mac the interface will be different.
When in the display settings menu, you will want to click on "connect to a wireless display"

If you have a discoverable tv i.e. smart tv capable of wireless display or a streaming device then you should see it appear in the pop up tab like this: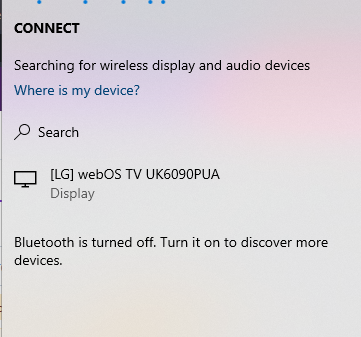 Here we have an example of an LG TV where you can enable screen mirroring. Note, you may need to enable bluetooth on either device if you don't see anything. You should see the "where is my device?" hyperlink that will give you more ideas and in depth detail on discovering your devices.
After you click the device you want to stream to, click connect and you should see a prompt appear on your tv. Click accept and voila! Your laptop should be connected to your tv.
If you want to disconnect, simply go back to the display menu we went to earlier and click disconnect.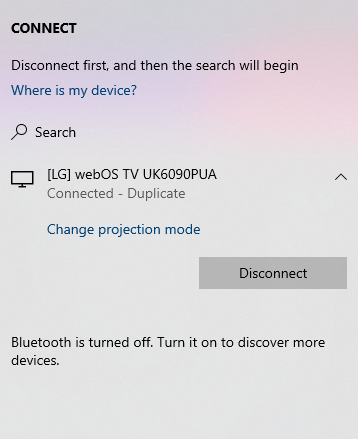 It should be noted some tv's do not like to wirelessly connect to an apple device if apple tv is not connected. For example if you are using a smart tv either by itself or a streaming device that is not apple, then unfortunately the connection may not work.
If you are on an android device then the steps are similar. Everyone's phone will look different. This example will be based on a samsung galaxy. The steps are as follows:
swipe down from the top so the extra widgets appear
scroll until you find "smart view"

this could be similar on other device but not exact wording

click the button or hold until a new menu pops up
the device we saw in the laptop menu should be there as well
click connect and it should automatically connect to your tv without permission
similar to the laptop, in order to disconnect, return to the menu and click the button again so it is not highlighted anymore
How can I play a movie from my laptop to my TV?
Connecting your laptop to a TV using HDMI simply plugs in an HDMI cable into your device's HDMI connector. If you purchased your TV within the last decade it is likely you have HDMI ports. Adapter is necessary if your laptop has no HDMI port. Otherwise, the same applies from above. Follow the necessary steps to connect to your tv and play your movie as you would normally.
I'm Using a Windows PC but Don't See Available Devices
Make sure both devices are on the same wi fi network. If you are not on the same wi fi then the wireless display will not be able to find each other. This goes for any device unless you are sharing via bluetooth. If you are doing this then your tv would most likely be connected to your local wi fi anyway.
Conclusion
First things first always make sure your devices you use to stream and stream to are on the same wi fi network. You can use an hdmi cable to connect the two if you wish, but you can go without if you have a smart tv. In order to connect to a wireless display navigate to your settings, display, and streaming to a wireless display. If you have a smart tv or device then you will almost always be able to wirelessly connect. The permissions may be different for your tv based on the brand but regardless you should get a pop up where you can click "accept". Hopefully this helps you get an idea of the settings to go to and setup as there are many different brands of laptops, tvs, and phones. All the wording may be different but they should be similar enough where the same directions apply!