Multi Monitor Adapters And Their Limits
If you've decided you want multiple monitors for your laptop or desktop computer, then you might need to get a monitor adapter to support multiple displays simultaneously.
Many laptops nowadays come with the ability to support an additional monitor via HDMI. If you're looking for a laptop that supports multiple screens, you'll want to make sure it has the appropriate port (usually HDMI) and graphics card to support it. You'll also need to consider the resolution of your monitors. A laptop screen is typically lower resolution than an external monitor, so if you're looking to use two monitors with identical resolutions, you may need to purchase a higher-end laptop. Additionally, keep in mind that using two monitors will increase your laptop's power consumption, so you'll want to make sure it has good battery life. Normally in this situation your laptop would be plugged in either to a docking station that support the monitors or just into the wall, so extra power supply should not be a major issue. Ultimately, there are many things to consider when purchasing a laptop with the intention of using it with another monitor, but with a little research, you'll be able to find the perfect device for your needs.
So the question is does your device support multiple screens? How many external displays? What requirements should you be aware of before you go and buy additional displays? We will get into all that and more below!
Graphics Card Requirements
If you want to set your screen in extended mode, you will need to hook your laptop up to another monitor either through a docking station or adapter. Unfortunately, some devices pre installed graphics cards simply do not support multiple displays. In order to find out the requirements for an additional display, you will need to look up the specs of your graphics card. If you are unsure what graphics card you have, then follow the steps below:
Open device manager in the start menu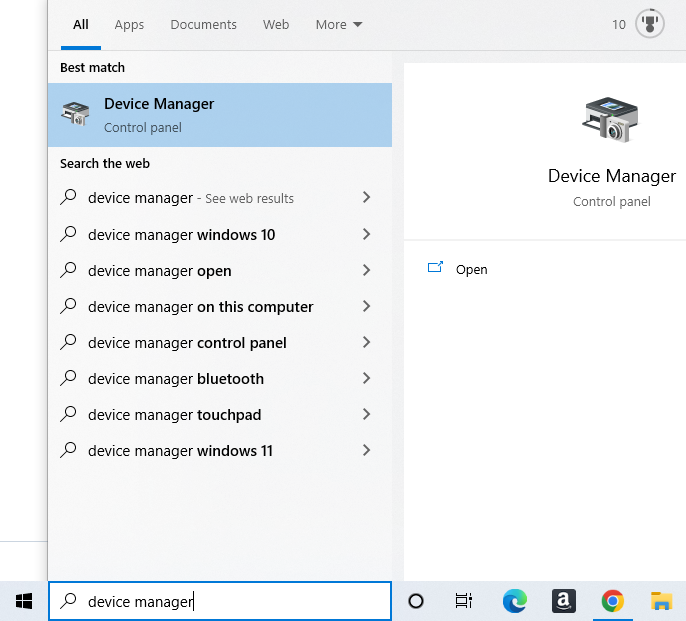 There should be a tab called "Display Adapter"
Click the drop down arrow on the tab and you should see your graphics card
You can also access this and more hardware information via the control panel:
In the start menu or search bar next to it, type in control panel
Under "Hardware and Sound" click " view devices and printers"
Under the "devices" section, double click on your device
a small window should pop up
click on the "hardware" tab on the right
Scrolling, you should see processors and display adapters under the "type" column
You should see the type of graphics card you have
After you have your graphics card info, simply search it to see if it is compatible with additional monitors. The manufacturer website should pop up first but even if not, the internet is a big place and there will surely be a thread of someone asking the same question. Based on your hardware your laptop screen should be able to be extended up to four screens. Again, based on your hardware!
Multi monitor adapter
Most laptops come with only a single hdmi port and usb port. This can be frustrating when trying to connect to another display, screen or other devices. A multi monitor adapter can help to overcome this limitation. Most adapters offer multiple hdmi ports (dual hdmi monitor adapter), giving you the flexibility to connect multiple monitors. A dual hdmi adapter lets you connect one input to two hdmi ports. In addition, many adapters also come with different types of ports such as usb 3.0, usb c, vga, or hdmi. This all depends on whether or not you are on a laptop or desktop computer. The majority of what is written covers laptops but if you have an older desktop you might have a vga or dvi port as well. Whether you're looking to increase your productivity or simply want to enjoy a more immersive entertainment experience, a multi monitor adapter can help you get the most out of your laptop.
Do I need an adapter for dual monitors?
If your monitors output is not the same as the input of your PCs, you will have to buy an adapter. Often a video output combination like HDMI DisplayPort is offered in a cable which can be bought by purchasing it from the manufacturer rather than an adapter.
What adapter do I need for multiple monitors?
The monitors include HDMI and/or VGA cables, but this connection is standard in most desktops and monitors. The VGA works very well with laptop computers for monitoring connection, particularly on Mac computers. Newer devices have a usb c port. Simply check to see which inputs you have on your device. If you only have usb 3.0 then you would need a usb 3.0 to hdmi adapter. If you have a usb c port you would want something that converts that way.
Conclusion
So we have established what you need to look up in order to see if you device supports a multi monitor workspace. Some people want just a single extra monitor, others want three monitors. Your video card might even support up to four. If your laptop has a single usb type, then make sure the adapter you seek out is for that specific type. I.E. if you have only standard usb 3.0 ports on your device then you would not be able to use a usb c to dual hdmi adapter.
With the way technology has progressed if you have a relatively new laptop or computer, two additional displays are usually natively supported. If you are working remotely, having two displays is a luxury that you won't want to give up. If you are on a desktop computer, look into a graphics card adapter which is similar to a multi monitor adapter for a laptop. For a desktop a graphics card adapter is usually usb to vgi/hdmi/vga whereas for a laptop an adapter could be any usb ports to hdmi as discussed above.
Whether you have one screen or four, be sure that your hdmi monitors are compatible with your device if you require higher resolutions. Every display should work, but if you have a low grade laptop with ultrawide displays or something more high tech then you might experience some lag and performance issues.